Hong Kong to Shenzhen, China
By Train:
take the Kowloon-Canton Railway (KCR) East Rail Line from Hung Hom Terminus Station.


Routes
:
(a) 15 minutes walk along Austin Road from Comfort Lodge; or
(b) take a taxi outside Comfort Lodge, fare HK$15.00; or
(c) take the green mini-bus No.6 outside Tak Sun School at Austin Road, fare HK$4.30
Train Ticket
:
Train stops at Luohu Station.
Adult - Ordinary class HK$33 for single journey
............First class HK$66 for single journey
Child & Senior - Ordinary class HK$16.50
Visa
:
It can be obtainable at the Border; after the Immigration check of Hong Kong side, you will cross a small river, at the right hand side, you will see 'Luohu Duty Free Shop', there is an escalator/staircase going up to the 2nd floor, in front you will see the "Shenzhen Exit-Entry Visa Office of the Public Security Bureau of Guangdong Province".
Visa Fee
:
HK$100 a person
Validity
:
5 days stay in Shenzhen only
Remarks
:
Complete the application form as the specimem, no photo is required.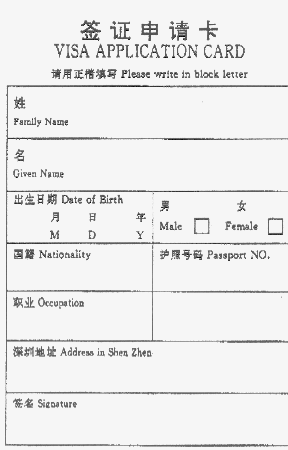 * To Shenzhen International Airport
Chinalink Bus Company Limited
http://www.chinalink.hk
http://www.cnhkbus.com
Booking Hotline : 852-2230-3030 (Hong Kong); 400-882-2322 (CN)

Shenzhen International Airport : Tel. 86-755-2998-2188
Kowloon Station : Tel. 852-2735-3525
Jordan Station : Tel. 852-2782-2333
Wan Chai : Tel. 852-2529-0900
Back to China Trips Index <!Menu E1>
Rooms / Location / Routes / Daily Rates / Monthly Rates
FAQ / Reservations / Payments / China Trips / Links
Students / Jobs / Home.

Copyright Comfort Lodge, Hong Kong 1998
7-8 Tak Hing Street, Knight Garden Block A, 2/F, Jordan, Kowloon, Hong Kong
Tel: +852 2314 8068, +852 2970 0888, Fax: +852 2970 0333.
Email: info@comfortlodge.com ; thomastang@ctimail.com
Home Page: http://comfortlodge.com